News item, fresh off the internets:
Conservative radio talk show host Rush Limbaugh has been dropped from a group seeking to buy the St. Louis Rams. Limbaugh was to be a limited partner in a bid led by St. Louis Blues chairman Dave Checketts, but Checketts said in a statement Wednesday that Limbaugh's participation had complicated the effort. The group will move forward without him.
Limbaugh said on his radio show earlier Wednesday that he had been inundated with e-mails from listeners who supported him in the bid.
"This is not about the NFL, it's not about the St. Louis Rams, it's not about me," Limbaugh said. "This is about the ongoing effort by the left in this country, wherever you find them, in the media, the Democrat Party, or wherever, to destroy conservatism, to prevent the mainstreaming of anyone who is prominent as a conservative.
"Therefore, this is about the future of the United States of America and what kind of country we're going to have."
Limbaugh's bid ran into opposition from within the image-conscious NFL on Tuesday when Colts owner Jim Irsay said he would vote against the radio personality. Commissioner Roger Goodell said the commentator's "divisive" comments would not be tolerated from any NFL insider.
Before getting dropped, Limbaugh said he had no intention of backing out.
"I'm not even thinking of caving," he said. "I am not a caver. Pioneers take the arrows. We are pioneers. It's a sad thing that our country, over 200 years old now, needs pioneers all over again, but we do."
Now, then: First of all, how sad it must be to have "conservative radio talk show host" as the prefix to your name. Sort of like "troubled rocker" Tommy Lee or "Watergate burglar" G. Gordon Liddy. Such a front porch on the main house of your name requires a lot of maintenance.

How is it that Rush Hudson Limbaugh III claims to be one of the people when he has made a sweet fortune peddling his poisonous palaver among the people?

How is it that he denies being a racist, since he's the guy who once told a caller to "take the bone of your mouth and call me back"? And then went on television and claimed that the NFL was propping up Donovan McNabb because they wanted to have a black quarterback do well. And also said,"
Have you ever noticed how all composite pictures of wanted criminals resemble Jesse Jackson?"
Nah, clearly no racism there.

But this puts me in the odd position of, for the second time in my short but happy life, being on the side of Jim
Irsay, the lummox who inherited the Indianapolis Football Team from his father, Robert
Irsay, also known as lummox². 'Twas Jimbo who bought and put on public display the sacred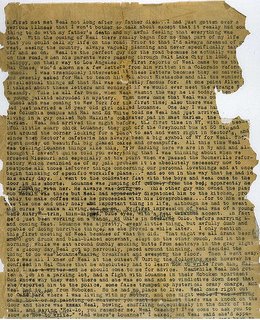 scroll upon which Jack
Kerouac typed "On The Road", and I had to applaud him for that. Now he's come out against the blithering bloviater from Cape Girardeau, MO., thus moving himself a little closer to sainthood. In my eyes.

And one last thing about the Rush Week festivities. He said, "I'm not a caver. Pioneers take the arrows." Seems to me that for a long time, what he was taking was narcotics.

I'm just sayin'.

And while I'm all up in the NFL's grille, I have to say this about that defensive coach of the Cincinnati Bengals, Mike Zimmer, who suffered an unthinkable loss last Thursday night when he came home from the practice field and found that his wife had died, quite unexpectedly. This is Vikki Zimmer we're talking about here, his wife of 27 years. And yet he came to Baltimore with the team this past Sunday for a football game. I'm not judging, not stating an opinion, just saying what happened. We all know people who would do that, put their job and their profession above themselves, their family, their grief.

I know

that

they do it; I just don't know

how

.