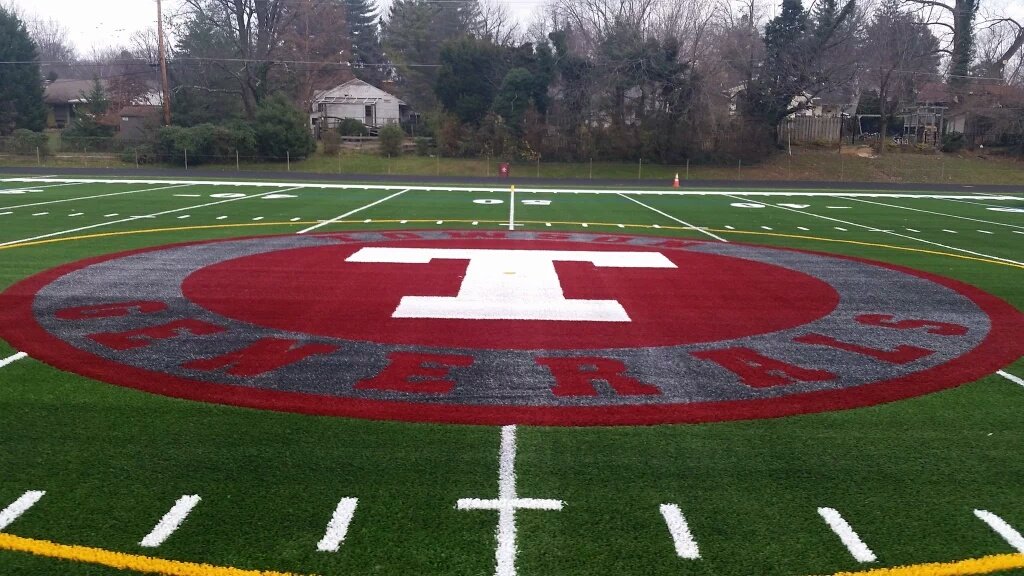 More than in any other city in the nation, from what "they" say, people in Baltimore are known for their high school. It doesn't matter if you've gone to Harvard or Harford, Yale or jail, we want to know which high school you went to.
Which is why I am proud to wear the maroon and white of Dear Old Towson High, my alma mater. The irony is that, while I was actually enrolled there, I didn't spend as much time there as I was supposed to, but that's all water under the bridge that leads to the new synthetic turf field (above)...
But what I am about to brag about is nothing that took place on the athletic field, but, rather, in the classroom of English department chairperson Jenna Zava, who, in an interesting assignment, gave her students a month to do three acts of kindness. Claire Fluharty gave her 12th grade AP English class the same task. Students had free choice of what to do, but the goal stated by Ms Zava was "to spread kindness and cheer in the school and the Towson community."
You may read all about it here in the Baltimore SUN:
I was impressed! One of the students baked a plate of chocolate chip cookies for a hard-working member of the custodial staff. Another presented her Spanish teacher with a plate of homemade cookies ("Un plato de galletas caseras," as I learned to say at THS.)
Another young woman chose to compliment five passersby per day, which led to a lot of "You talking to ME???" responses. Another chased the mail truck up her street to catch up to, and thank, the surprised letter carrier at the wheel.
From baking homemade latkes for a family Hanukkah celebration to helping elderly people reach items on the top shelf at the grocery store (they always put that stuff way up high!), all the students found ways to complete the assignment, which Ms Zava devised after a group of her friends raised money to help her care for her six-year-old son, who has a rare genetic disease. She mentioned the Random Acts of Kindness website, which shares ideas about doing this very thing.
From my days as a Boy Scout, where we tried to perform a good turn daily, I have tried to carry on this tradition, with varying levels of success. But one thing I do know is, if you really want to get in the habit of doing something nice for someone every day, it's not that hard. Going to that Random Acts website will give you hundreds of ideas in many categories.
"I wanted to try it out on a small scale this year and see how it went," is Ms Zava's reaction to how the assignment turned out. "Perhaps next year we can have more students participate."
And perhaps all of us can do something nice for someone every day in 2019. Want to bet that we can?