I like to imagine certain things that take place at certain workplaces. F'rinstance, every time I see a office with a sign that says "Furpenfloofer and O'Hoolahan, Attorneys at Law," I imagine it's someone's sad task to answer the phone with "Furpenfloofer and O'Hoolahan, how may I direct your call?" 147 times a day.
That can't be fun. And meetings! The worst part of any day. Man oh man, I dreaded having to go to meetings for my entire working career, so much so that I often fell asleep in them.
But one meeting that must have been interesting was held Friday for sure at the World Build-A-Bear Headquarters, the subject of which was "Just whose idea was it to hold a promotion for a day in July when all kids are out of school and have them show up at our stores with the promise that a four-year-old can make a teddy bear for four bucks?"
Because, you
know
what happened, and if you're older than four, you already
knew
what would happen with such an idea!
Predictably, the first step, after Thursday's debacle at mall after mall, which saw lines of sobbing kids and seething moms and dads queuing up for hours for a bear they would never get to make, was to trot the boss out on morning television to eat a little unstuffed crow.
"I am sorry that we were not able to provide the service that we wanted," CEO Sharon Price John told Hoda Kotb and Willie Geist on the "TODAY" show.
"We are doing our very best and we are staying very focused on making sure that we do the best we can to make it right for people."
It seemed like a great idea, but the turnout was immense, with reports of people waiting on line for up to nine hours. By mid-afternoon, the company pulled the plug early over "crowd safety concerns."
"There was no way for us to have estimated the kind of impact, those kind of crowds,'' John said. "It far surpassed anything we ever could've known. We did see it wind up in social media, and we did put a notice out for people that we thought the lines could be long, and we worked with the malls, but it was beyond anything we could've ever imagined."
So, after waiting in line for hours all the way down by Auntie Anne's Pretzels and That Potato Place, kids did not get to make a bear, but did get to see harried managers handing out vouchers good for 15 dollars off a bear when they get around to returning.
Thursday's ill-fated deal was an offshoot of the company's popular "Count Your Candles" birthday program. which enables kids under 14 to "pay their age" to build a bear during their birthday month.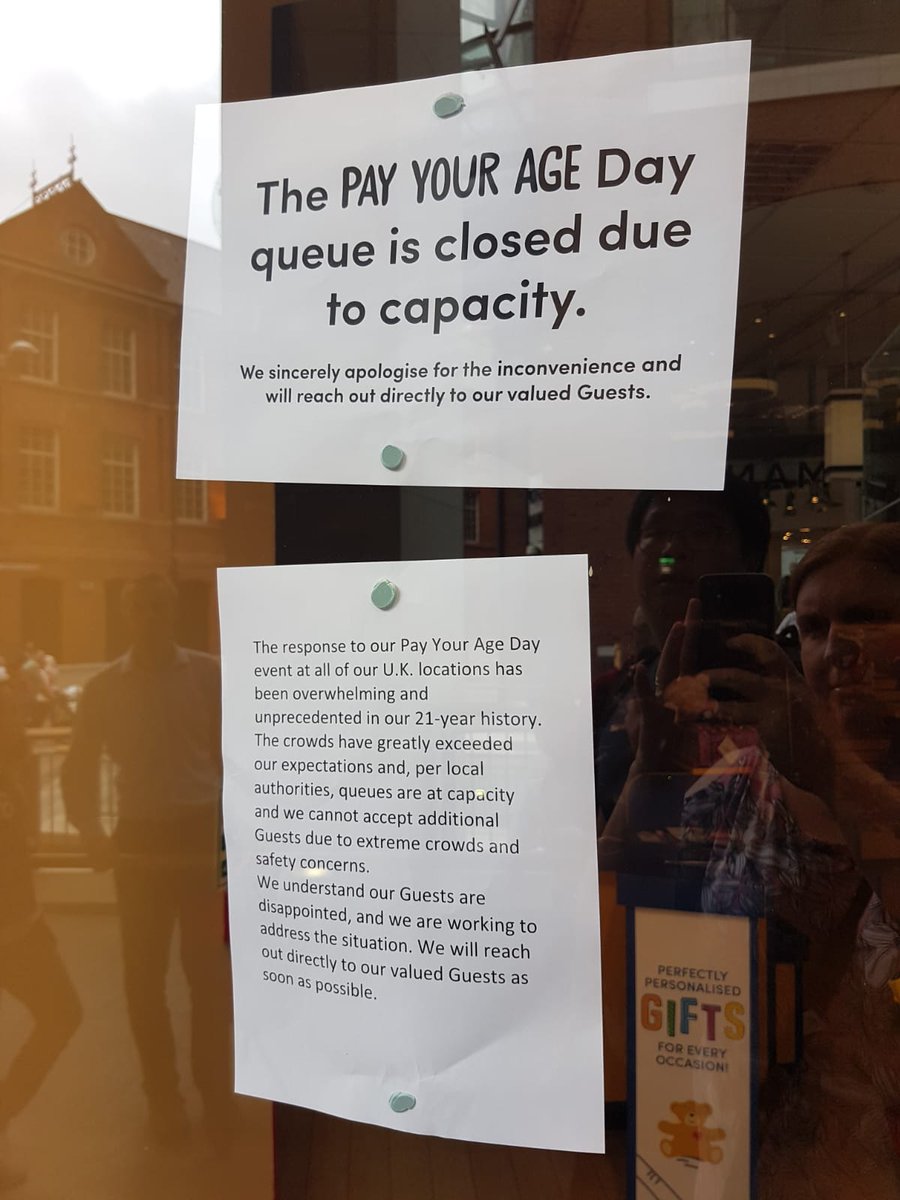 Even the British were disappointed
"If I could do it over, if there was a way to extend the day to just make sure that we service everyone, I would've loved to have seen everyone be able to get a bear, but it was the sheer amount of crowds and how much time we had in the day ... we couldn't possibly move everyone through the process,'' John told TODAY.
Ms John also said, "It's heartbreaking. I'm a mom of three, I know that the most disappointing moment is when a kid is super-excited and something doesn't happen."
I hope that some of the parents of the kids who stood in a mall on a beautiful summer day were able to remind the kids that life does not always work out the way we want it to, and someday they, too, will have jobs and meetings and bosses who want to know, "Whose screwy idea was this?"
Ain't life great?