I am trying so hard to be apolitical these days, for health reasons. I'm sick and tired of all the nastiness, the fractious backbiting, the hissed insults and thinly-veiled threats.
And that's just in line at the Try'N'Buy!
But I couldn't help but notice that former Alaska Governor Sarah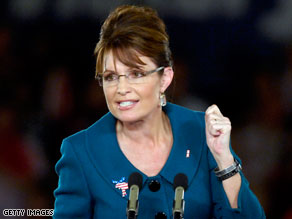 Palin (see blog entry "The Most Wonderful Woman, yea, Most Wonderful Human to Walk this Planet in Many Many Years"), who put her heart and soul and "considerable" clout and gravitas into the special election for a congressperson from New York State's 23rd District, who foretold of the inevitable sweeping victory of some unknown CPA who ran on the Conservative ticket because the Republicans were too liberal for him, who all but promised that her people had found their Valhalla, their promised land, their district of milk and honey...lost. Big time.
Swell Rushbo blamed the other Republicans, sputtering his way to an exegesis of the election that any fable writer would envy.
But leave it to Sarah to put it in simple terms, because that's where she lives. Her guy did NOT lose, you see.
As CNN reported:
Democrat Bill Owens may have won last night's special election in New York's 23rd congressional district - but Sarah Palin said Wednesday that race "is not over."
Writing on Facebook early Wednesday morning, the former Alaska governor praised Conservative Party candidate Doug Hoffman and "all the other under-dog candidates who have the courage to put themselves out there and run against the odds."
"The race for New York's 23rd District is not over, just postponed until 2010," Palin wrote. "The issues of this election have always centered on the economy – on the need for fiscal restraint, smaller government, and policies that encourage jobs. In 2010, these issues will be even more crucial to the electorate."
OK. First off, I love Facebook and I love seeing old friends in exotic vacation spots and posing with their families at graduation exercises, weddings and reunions. I love the freeflowing exchange of photos, videos, pictures, and, most important, the words of encouragement and solace that friends can post on each other's walls. I don't think that it's a great place from which to orate and delineate, if one has aspirations of leadership. It's more for friendship, not campaigning.
But even so, will someone please notify the Phillies that the World Series is NOT over..just postponed until 2010? Levi Johnston's almost-mother-in-law is like that little girl who overturns the Monopoly board because she's losing. And hey, in her world, you can see next fall from her house!