To quote from a great old song by Tompall And The Glaser Brothers, "Someday, I think I'll take up thinking."
And one of the things I'll think about is art. Not Art Tripp, the former drummer for the Mothers of Invention who drummed under the name Arthur Dyer Tripp III and now drums on people's pinched nerves in Gulfport MS as Dr Arthur Tripp, chiropractor.
But this sort of art is what I am thinking of: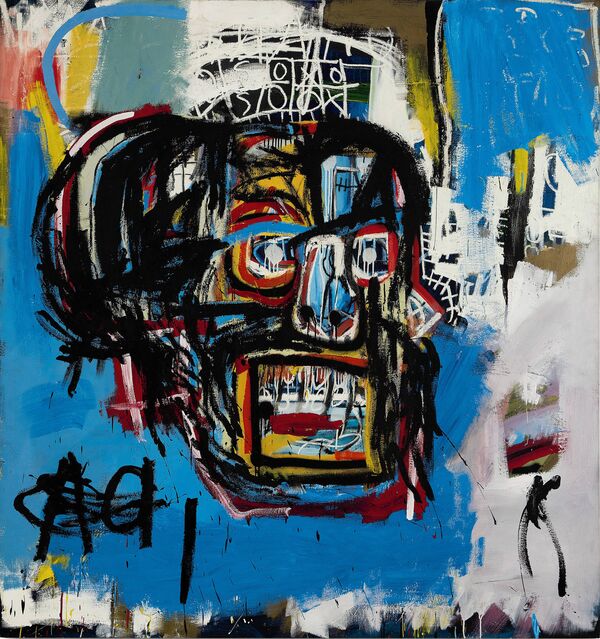 One of the many tattoo ideas
I once considered for my right arm
This painting, this "masterpiece," as some call it, was untitled by the painter Jean-Michel Basquiat. They say it depicts a human face in the shape of a skull. To my untrained eye, it looks like someone found a piece of paper where a child had been playing tic-tac-toe and practicing letters, and drew a face, and then tried to paint over it with blue poster paint, before running out of paint.
The joke's on me! This "masterpiece" sold for $110.5 million at auction in New York.
Sotheby's, which will soon handle the auction of my collection of pictures of dogs playing poker and children with gigantic eyes, said that this was the most loot they ever tricked anyone into shelling out earned for the sale of a Basquiat original. He painted this in 1982; by 1988 he was dead of a heroin overdose.
A Japanese collector named Yusaku Maezawa won the right to write that check after a bidding war that lasted 10 minutes. He will display the painting in his museum in Chiba, Japan, alongside another Basquiat marvel, also entitled "Untitled," and also done in 1982.
I'm noticing a trend here.
My favorite part of the story (along with not having to worry about clearing space on my walls for this canvas) is that it was sold by the daughter of two collectors who bought it for $19,000 in 1984. They were named Jerry and Emily Spiegel. They both passed away in 2009, and their daughters have been bickering about the family fortunes ever since.
Their older daughter, Pamela, sold 50 paintings through Christie's, leaving another 57 to sell off, but bringing in $125 million so far. Younger daughter, Lise, only got one of the pictures to sell, but this is the one, and so she stands to bring in the 110 million semolians.
If you need me, I'll be in the garage with my paints and a brush. Just call me "Clarkiat."